Suddenly, CBD is everywhere. Here's what's next
(CNN) —  
The CBD gold rush has begun.
CBD, the chemical found in hemp and marijuana plants, is showing up in shampoos, lattes, body oils, gummy bears and dog treats. It's being sold in coffee shops and farmer's markets, mom-and-pops and high-end department stores and most recently, drugstore chain CVS.
"Literally overnight, you're seeing CBD all around you and in everything," said Troy Dayton, CEO of The Arcview Group, an Oakland, California-based cannabis investment and research firm. "This is a product that is going from relative obscurity to being on everyone's mind: producers, consumers and especially entrepreneurs."
The CBD floodgates opened after President Donald Trump signed the Farm Bill into law in December. Among other things, the bill legalized the production of hemp, which contains high levels of cannabidiol, or CBD. CBD is non-psychoactive, meaning it won't get you high. (THC, or tetrahydrocannabinol, is the chemical in cannabis that does that.) Instead, CBD is marketed for everything from helping to relieve pain and inflammation to reducing stress and anxiety.
Yet, the Food & Drug Administration still hasn't decided how to regulate CBD products. In a recent interview with Brookings Institution, outgoing FDA commissioner Scott Gottlieb said it could take several years before the agency fully legalizes CBD for use in food products and dietary supplements.
So far, little clinical research has been conducted to prove CBD's effectiveness. Last year, the FDA approved the first drug containing CBD for the treatment of certain forms of epilepsy, but no other drugs have been approved since.
Dayton cautions that there's also a lack of standardization in terms of recommended doses and quality control.
"As exciting as this is, it gives rise to some challenges," he says. "Standardization and testing are important. Otherwise, it's hard to differentiate hype from reality in terms of determining the efficacy of CBD products."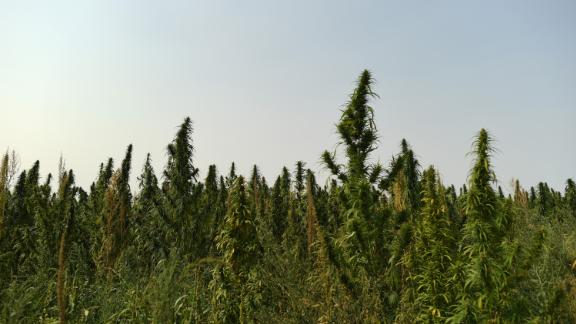 A lack of access to banking remains another hurdle.
"We've talked to clients who are still struggling to find a bank willing to work with them and we've spoken with banks and credit unions who want to support the hemp industry, but still feel there is considerable risk attached to the CBD industry," says Evan Eneman, CEO of MGO\ELLO National Cannabis Alliance, a financial and tax advisory service for the cannabis industry. "Both sides want clear, actionable banking guidelines from the federal government."
Despite these roadblocks, the Arcview Group projects sales of CBD products will outpace legal marijuana sales in the United States in five years. Here are some of the entrepreneurs hoping to cash in.
'We want customers to trust our products'
"For us, 2018 is the year when so many of our big problems started to go away," says Chase Terwilliger, CEO of Denver-based Balanced Health Botanicals.
Before the Farm Bill passed, many banks and payment processing companies refused to work with his company.
"We had accounts at many large banks and they all shut us down," he says. "Now, banks and credit card processing companies are calling constantly to lend us money."
Founded as CBDistillery in 2015, the company initially sold pure, hemp-derived CBD extract in powders that could be added to food and beverages or mixed in with oils and lotions.